Huawei is doing their best to put all its effort in field of technology, and wants to introduce more and more innovations in market. After the success of P20 and P20 pro that have three cameras on backside. The company is looking on new technology to introduce in future and that will be world's first "foldable" phones.
Samsung has filed a patent for foldable phone, and in order to compete them huawei has also filed a patent on 19 September 2017. This idea was first revealed by world intellectual property organization (WIPO) website.
Demonstration of Huawei foldable phone: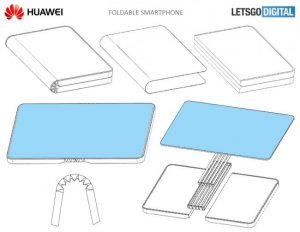 In this image we can clearly see that upcoming foldable phones can be tilt up to 90 degrees on both sides. Huawei foldable phones will be slightly different from ZTE Axon M. It have only one single display which can be folded rather than two split screens. The demand for foldable phone increases when consumers wants a smartphone who would have wide display screen with easy handling and portability.
For this reason, huawei introduce a technology which can be used as a tablet and after being used can be placed into pocket or bag. Foldable phones contains flexible glass material that doesn't break upon folding. Their is no authentic information about availability of phone and no such sample prototype has been shown to audience.
Patent Says:
"Provided are a mobile terminal folding mechanism and a mobile terminal. The folding mechanism comprises a soft supporting structure and a hard supporting structure embedded in the soft supporting structure. The folding mechanisms composed of the soft supporting structure and the hard supporting structure embedded on the soft supporting structure is used as a component for connecting a first shell and a second shell."
However, Patent has not yet disclosed any further information that once folded how phone able to operate. Many questions and queries remained unanswered by the company. We have to wait until its release to know how it actually works.