Zong brings another exciting offer after launch of 3G and 4G in Pakistan. Zong social pack offer is specially made for those users who love to socialize and are crazy for sharing statuses on facebook, twitter and chat with friends at Whatsapp.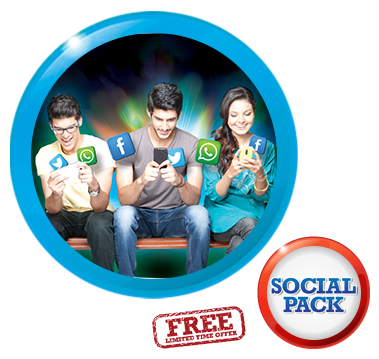 Offer Details:
Zong social pack allows users to use following socializing networks Free of cost
Facebook
Twitter
Whatsapp
All the above social networks are free to use on 2G, 3G and 4G networks. All the above networks can be accessed free of charge via Website, Mobile Apps and Mobile website and messengers.
However this offer is for limited time after which Zong may charge to its customers. Best thing for this offer is that it has No Limits. This means that you can surf and share status or watch videos as much as you want. Whatsapp chat and sharing is also totally free.
Subscription Details:
To subscribe this offer you can dial *6464*5# or alternatively send SMS writing Social to 6464. There are no subscription charges of this offer.
Well such an offer need not to unsubscribed however due to limited time availability you must know how to unsubscribe this offer you can send SMS writing unsub Social to 6464.
Terms and Conditions:
Following may be the terms and conditions of this offer.
You must subscribe to this offer before usage
This offer is free of cost and has no subscription charges
Viewing external links etc will be charged according to users package
This offer is for limited time.
This offer can be availed within Pakistan only.