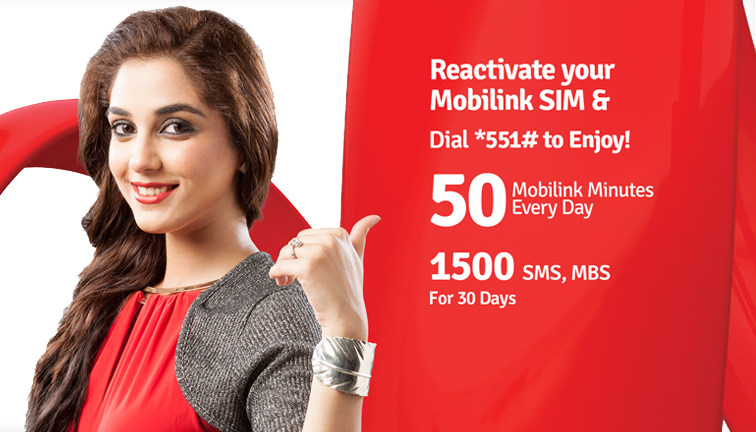 Oldest network of Pakistan, Mobilink, is back with super offer "Mobilink Sim Lagao Offer". Now you can enjoy free whole month with mobilink upon using your old sim. Those customers which have previously closed or have not used their Mobilink Sim since 15th August 2014 can avail this offer.
Offer allows you to enjoy Free for 30 Days
50 Daily Mobilink to Mobilink Minutes
1500 SMS to any network
1500 MB 3G or 2G Internet
In addition to this or after using above stuff if you use only Rs 8 daily then you can also get
100 Mobilink to Mobilink Minutes
100 SMS for any network
100 MB of 3G or 2G Internet
Full details and rates are given below
Subscription Charges: Rs 0.05
Rates: NIL
Incentive: 50 Mobilink Minutes Daily, 1500 SMS, 1500 MBs.
Validity: 30 Days
Subscribe: *551#
Unsubscribe: None
Check status: *553*2#
Information string: *553*3#
Terms and Conditions:
Call Setup fee of Rs 0.10 + Tax will be charged on the first pulse for each call
Free Mobilink minutes will be posted daily and will expire at midnight every day. Free Minutes will be posted for 30 days
1500 SMS / 1500 MBs will be given upon subscription and will remain valid for 30 days
In addition, on usage of Rs. 8 or more, customers will get 100 Mobilink Minutes, 100 SMS and 100 MBs. This Offer will be valid till 30 Days after Subscription
its a Limited time offer
Offer is subject to change anytime
For Balance Inquiry Dial *111# for Rs. 0.20 + Tax
For any additional query call 111 helpline for Rs. 2 + Tax
19.5% FED on usage and 14% withholding tax at recharge or bill apply
5% service charges and 5% operational fee apply on all recharges