Google unveils its latest android update through a blog post yesterday with two new device from Nexus series. New version of Android is 5.0 named as Lollipop, seems inspired by Kids. Lots of new features were expected by this update and so did have it within.
What's New in Android 5.0:
Android 5.0 Lollipop takes the new way, making for everyone, called Material design which focuses on uniform experience across all your devices. This means that there will be no difference in app looks of smartphone or tablets. Android 5.0 Lollipop is flexible, faster and more customizable. Moreover it have 5000 new APIs for developers.
Major updates include features like battery extensor, lock screen notifications, guest account, more options of securing device like pin, password, pattern and even device pairing and better control over device.
Battery extensor help you to increase usage time by 90 minutes which help you in emergency. Lock screen notification helps you to give reminders and notification on lock screen so that you need not to open lock to access them. Pin, password, pattern and device pairing are the new security locks that helps you keep device secure.
Better control means that you can adjust setting of your own device in your way. You can adjust your setting according to your personal liking means only certain people can get through it while others cannot.
Nexus 6:
Welcome to new 5.96 or we can say 6 inches display device with insane 2560X1440 pixels. The new device is definately powered with android 5.0 lollipop and have 13 MP camera with optical image stabilization and dual LEDs circled around camera. Front camera is 2MP and have two stereo speakers at top and bottom.
Powered with 2.65 GHz Quad-core processor along with 3GB RAM makes it faster than ever. With 3220 mAh battery and turbocharging option makes it work last longer than in past. With only 15 minutes charging you can get 6 hours long battery time.
This phone have a capacity of 32GB and 64GB and will be available to purchase in late October or November first week. While price is not yet given but expected is $649 (64900 PKR).
Technical Specification:
Chipset: Qualcomm Snapdragon 805 SOC
CPU: Quad-Core 2.7 GHz Krait
GPU: Adreno 420
RAM: 3GB
OS: Android 5.0
Dimension: 82.98mm X 159.26mm X 10.06mm
Weight: 184g
Colors: Cloud white, Midnight blue.
Display: AMOLED Capacitive touchscreen, 16M colors, 1440X2560 Pixels with Corning Gorilla Glass 3
Internal Space: 32GB/64GB
Connectivity: 2G/3G/4G LTE, WiFi, Bluetooth 4.1, NFC, USB
Camera: 13 MP Rear-Camera, 2 MP Secondary Camera.
Battery: 3220 mAh Non-removable.
Nexus 9: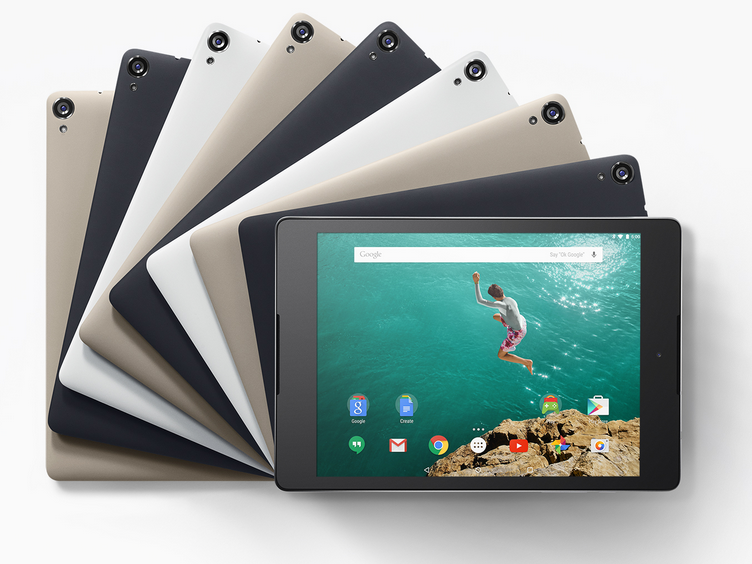 Made for makers and movers like people who work on the Go. Made by HTC with 8.9 inches IPS LCD and resolution 2048X1536, this Tablet is 64 bit Nvidia Tegra TK1. It has dual-core CPU at 2.6GHz and 2GB RAM. Two variants of 32GB and 64GB are available with no extra slot for SD Card.
8MP Camera at back and 1.6MP front Camera is available for Snapping and Video making. Other features include Boombass stereo speakers, a massive 6700 mAh battery and an optional keyboard that can be attached with device.
Nexus 9 Tablet will be available for pre-order till October and will ship in November 1st week. Price is officially not available but expected price is $400 (40000 PKR).

Technical Specifications:
Chipset: Nvidia Tegra TK1
CPU: Quad-Core 2.3 GHz Denver
GPU: 192-Core Kepler DX1
RAM: 2GB
OS: Android 5.0 Lollipop.
Dimension: 228.2mm x 153.7mm x 7.9 mm
Weight: 425 g (WiFi)/436 g (LTE)
Colors: Indigo black, Lunar White, Sand.
Display: IPS LCD Capacitive touchscreen, 16M Colors, 1536 X 2048 Pixels with Corning Gorilla Glass 3.
Internal Space: 32GB/64GB.
Connectivity: 2G/3G/4G LTE, WiFi, Bluetooth 4.1, NFC, USB 2.0
Camera: 8MP with LED rear and 1.6MP front Camera
Battery: 6700 mAh non-removable battery.
Our Verdict:
Both the devices are good for their use and with release of Android 5.0, Gadget industry have entered next generation of devices. Lot more have been released and lot more have to come. Price are cheaper as compared to other devices but are not officially announced so we cannot say anything on that but definitely these devices are going to be big change in Technology Industry. We are expecting to see lot of new functions by other companies as well.