Telenor after launching free 3G trials in many cities of Pakistan have finally launched its 3G services commercially. Telenor network is 1st network that have deployed 3G service very fastly across Pakistan.
Nearly 18 cities have 3G services in the form of trials and commercial launch are included. Among them all big cities have telenor 3G in them after trials. Telenor group have a campaign named "Internet for All" in 11 countries of world and they are now giving these services in Pakistan too.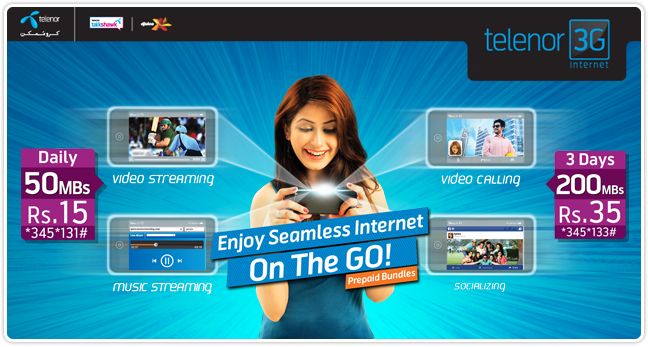 3G Coverage Check:
To check whether or not you are in coverage area you should dial *7799# before subscribing to any 3G package. If you are in coverage area then you can enjoy the package otherwise you will waste your money.
3G Prepaid Packages:
Following are the packages for Telenor 3G.
The best package among telenor 3G packages is 3 days packages for Rs 35. Its economical and MB's are balanced with the amount of Rs charged. It also have a good validity time of 3 days which is enough to consume 200 MB of Internet.
While on the other hand minimum package is daily package for Rs 15 with 50 MB and maximum allowed bundle is Rs 1000 with 8 GB limit for 30 days and the best part of these packages is that they have tax included in them for price or rates.
3G Postpaid Packages:
Postpaid packages for Telenor 3G is divided into 2 areas listed below
Smart plans includes Minutes, SMS and MB's of 3G Internet combined while Bundle Plans only have 3G internet plans without any Minutes and SMS.
Terms and Conditions:
Following are the terms and conditions defined by telenor for its consumers.
3G bundles will work on both 2G & 3G
2G bundles will not work on 3G
After usage of Rs 50 rest of day will be free by default.
By default 10 paisa/1kb will be charged.
Video call will be charged on 5 minutes basis
You must be in coverage area to use 3G services
Internet bundles are available on all postpaid plans.
Hangout Skype and others are charged on Relevant data/Internet rate