Mobilink 3G Packages are very different from other companies. They have variety and versatility too. Prices also vary from 1 package to others.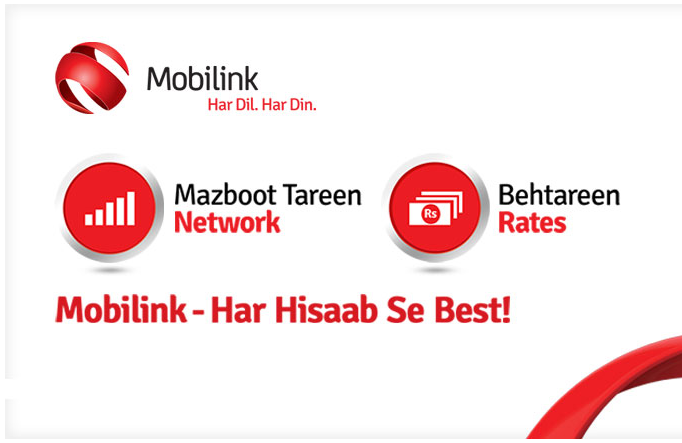 3G Activation:
While on other network you can do not need to activate 3G services manually but if you have to use Mobilink 3G you will need to activate it before using but not to worry, its totally free of cost. To activate 3G you have to dial *443# and select "3G activation" from Menu or you can send an sms writing SUB to 7003.
3G Packages:
Mobilink gives minimum 3 days of validity(see below), weekly and monthly packages to their customers. Maximum limit for 3G usage 4GB monthly priced at Rs 600/month.
Like Zong 3G and 4G internet packages, Mobilink also have a Hybrid package. This involves 1000 On-net minutes, 1000 SMS and 2GB Internet for 30 days at a cost of Rs 478. This is a good bundle offer though but others are also useful too. Like other mobilink also have social pack for Free.
Below image shows the list of 3G bundles with subscription details and Prices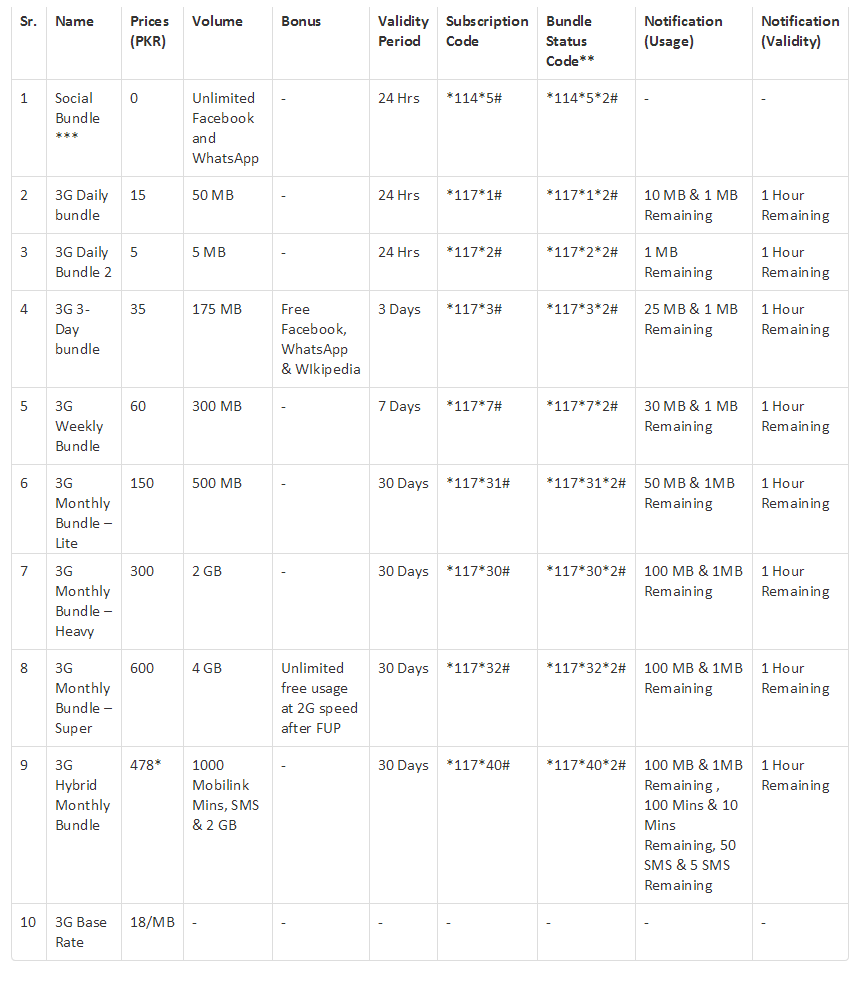 For checking remaining balance of MB's no charges apply yet.
Terms and Conditions:
Following are the terms and condition defined by Mobilink for its users.
3G bundles are non-recursive and pulse size is 64 KB. 3G bundles can be subscribed and consumed in both 2G and 3G networks. 3G bundles can be consumed at 3G speed within 3G network and at best possible speed within 2G network.
3G and video calling services will work on existing SIM card. You will require a 3G enabled handset and be within a 3G coverage area to enjoy Mobilink 3G services.
Actual Internet speed will depend on multiple factors like device, web pages accessed, time of day, number of simultaneous users, distance from 3G tower etc.
Tax is not applicable on Mobile Internet Usage and subscription charges.
Offered 3G data bundles will not auto-subscribe. Bundles need to be subscribed again upon expiry.
Base rate is a default rate. This means that if you are not subscribed to any bundle, you will be charged according to base rate i.e. PKR 18/ MB at 2G speed even if subscriber is connected to a 3G network. Charging pulse will be 64 KB.
Video call will be activated by default along with 3G services. The billing pulse for Video Calling is 30 seconds. Currently only on-net Video Calling is available.
Video Calling is only possible in 3G network and will require a handset capable of making a video call.
Postpaid Packages:
Mobilink offers only 2 packages of 3G for Postpaid Users given below
Monthly Mini – 3GB Volume for Rs 500
Monthly Max – 8 GB Volume for Rs 1500
These packages need to be subscribed once for a month. These are not auto-renewable. You will have to subscribe again after a month.
Liked or Disliked these Packages? Have your words in Comment Box Below!